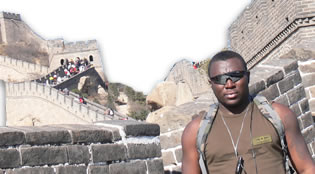 Hi, my name full names are Futonge Kisito, but you can simply call me Kisi. My childhood hero's Chinese name Li Xiao Long ( Bruce Lee) inspired me to take up the Chinese name Li Hei Long ( means Black Dragon).
I have been teaching English as a Second language for over 6 years, while at the same time learning other languages like French and Chinese. My English teaching career brought me to China, where I have spent most of my teaching life. I am also the developer of 5 great ESL sites with over 300,000 and growing unique visitors each month. You may have come across the following sites:
www.esl-galaxy.com, www.english-4kids.com , www.esltower.com www.englishmedialab.com & www.download-esl.com These five sites mark my contribution to the world of English teaching.
Having spent a lot of time teaching all over China and learning Chinese, I thought it was time to start sharing that knowledge with others. China has contributed much to my development as I have put in much as a teacher. I set up this site www.chinesefortravel.com to primarily share my Chinese language and cultural experiences with you. My first days in China were marked by several difficulties stemming primarily from my lack of preparedness before arriving. Language and culture were among the toughest problems I had to deal with.The language was first of all a big surprise to my tongue. Language and culture shock therefore took their toll on me big time. I think if I had learnt a few Chinese language skills, my first days might have been a lot easier. But there I was, bombarded by sounds of a language that was so different from the other languages I spoke. With no language skills in Chinese, a mix of anxiety and insecurity gripped me.
These early language difficulties impressed on me the necessity of learning survival Chinese. With a determination, like I have never seen, I seriously started learning conversational Chinese. With a quick knowledge of Pinyin, I took advantage of the language environment to learn at lightning speed. Within barely 3 months of being in China, I had developed enough basic spoken Chinese to go around with little or no help.
My hope is that by launching this website, you too may arm yourself with the necessary knowledge of the Chinese language and culture while in China or before arrival. I would end by saying that being able to speak Chinese is like a great cultural weapon in your counter-culture shock arsenal. Begin learning your first words here with us at www.chinesefortravel.com
About David
David teaches English in the South of China and has a great passion for teaching and learning languages. David and Kisi frist met at English First, Shenzen, working together as colleauges. We both shared the ideas of building a site where foreigners can learn Chinese. David was driven by the many encounters he had with foreigners who got stuck with language difficulties.
About Luke
Luke has worked with many foreigners in China and has always liked the idea of helping foreigners learn their first words in Chinese. It was that passion that drove him to join the team.